If you're thinking about attending Saint Louis University, one of the first things we suggest is to visit campus. That's because there is something special about seeing SLU in person.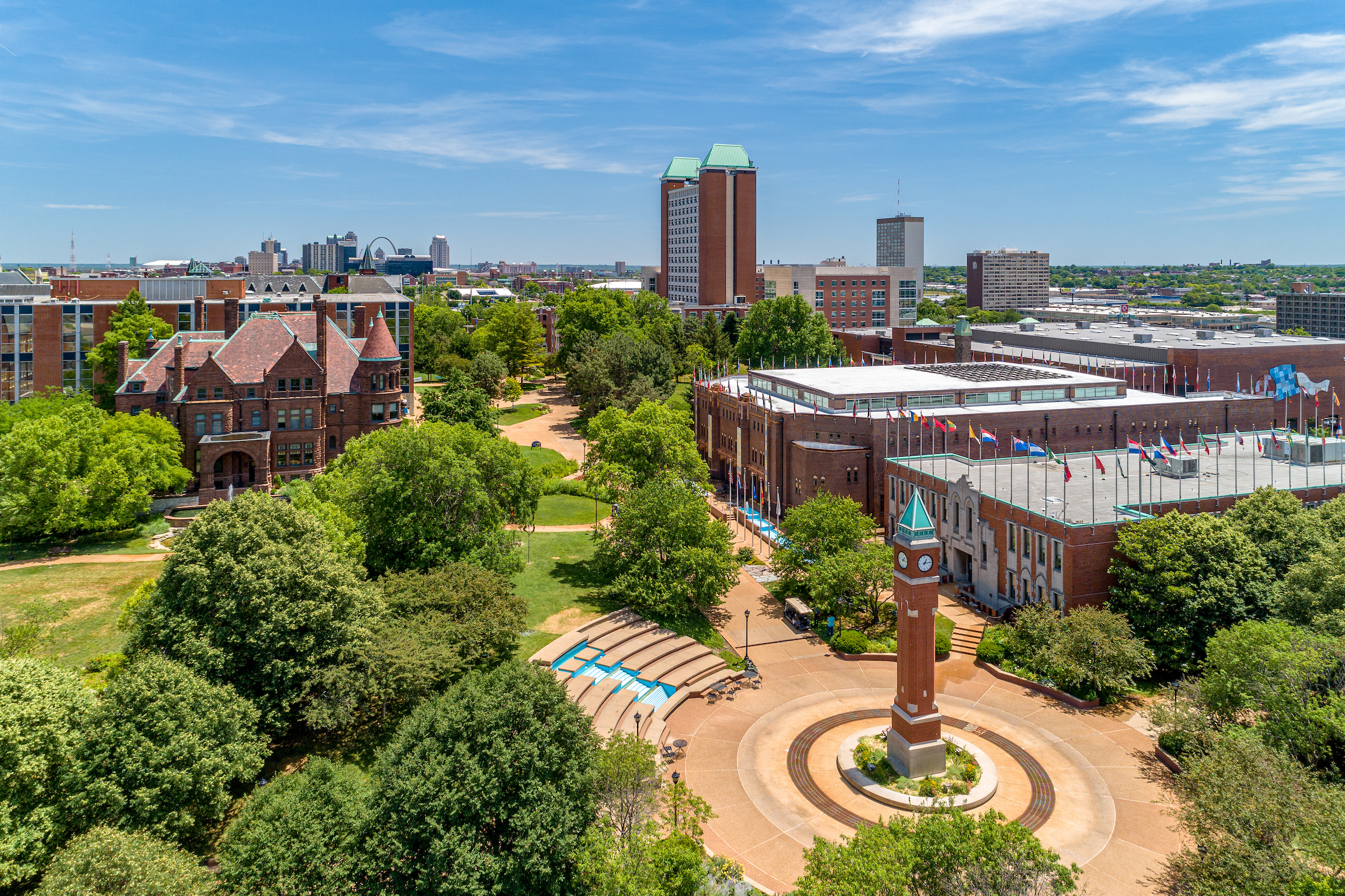 A view of SLU's clock tower and fountain, one of the most popular gathering places on campus on warm days.
Scattered among our state-of-the-art classroom buildings and historic halls are reminders of what makes the 271-acres of SLU a community — the amphitheater at Lipic Clock Tower Plaza where students gather on warm days, the chairs clustered around a fire pit at Fusz Hall on cool nights and the touch-football games on green spaces around campus that break out spring or fall.
You'll feel our spirit in the cheers coming from Chaifetz Arena and in the ritual of Sunday Evening Student Mass. Run your hands down the same oak banisters brought to a gloss by generations of students before you and rub the bronze belly of the Billiken statue for good luck.
Someplace between posing for a picture in front of the campus gateways, testing out a hammock on the quad or hearing the St. Francis Xavier College Church bells toll, you realize you're finally home.
By the Numbers
residence halls and on-campus apartment complexes
square feet of space to work out and compete at Simon Recreation Center
dining options, including a state-of-the-art dining hall, Qdoba Mexican Grill, Starbucks and St. Louis Bread Company
museums: Saint Louis University Museum of Art, Historic Cupples House & Galleries, & the Museum of Contemporary Religious Art
Where is Saint Louis University?
Saint Louis University has two campuses — a flagship in St. Louis, Missouri and a campus in Madrid, Spain.
Located in the middle of the city that shares its name, SLU's main campus is walking distance St. Louis' performing arts center, Cortex Innovation District (a key reason St. Louis is among the top startup cities in America) and Prospect Yards, a new urban social and business hub. An easy drive from more than 300 cities, SLU offers tour options that allow you to see campus in a day, or spend an entire weekend getting to know the city of St. Louis.
Campus Honors
With such a vibrant campus, it's no wonder Saint Louis University has received recognition for its beautiful historic buildings and parklike setting.
Most Beautiful Campus Churches: St. Francis Xavier College Church was recognized by collegeranker.com on its "50 Most Beautiful College Campus Wedding Venues" list. At No. 2, SLU is the only university in Missouri, and the only Jesuit school in the nation, on the list.
Top College Museums: Saint Louis University Museum of Art is No. 4 among the top 50 college and university museums in the nation, according to collegerank.net. SLUMA was the only museum in Missouri on the list.
Top Green Colleges: SLU was named one of the nation's top green schools in The Princeton Review's 2018 Guide to 399 Green Colleges. The guide profiled colleges with exceptional commitments to sustainability in their academic offerings, campus policies and programming.
Tree Campus USA: SLU is one of eight institutions in Missouri, and only the second Jesuit institution, to be rewarded the Arbor Day Foundation's "Tree Campus USA" designation for promoting healthy trees and engaging students and staff in the spirit of conservation.